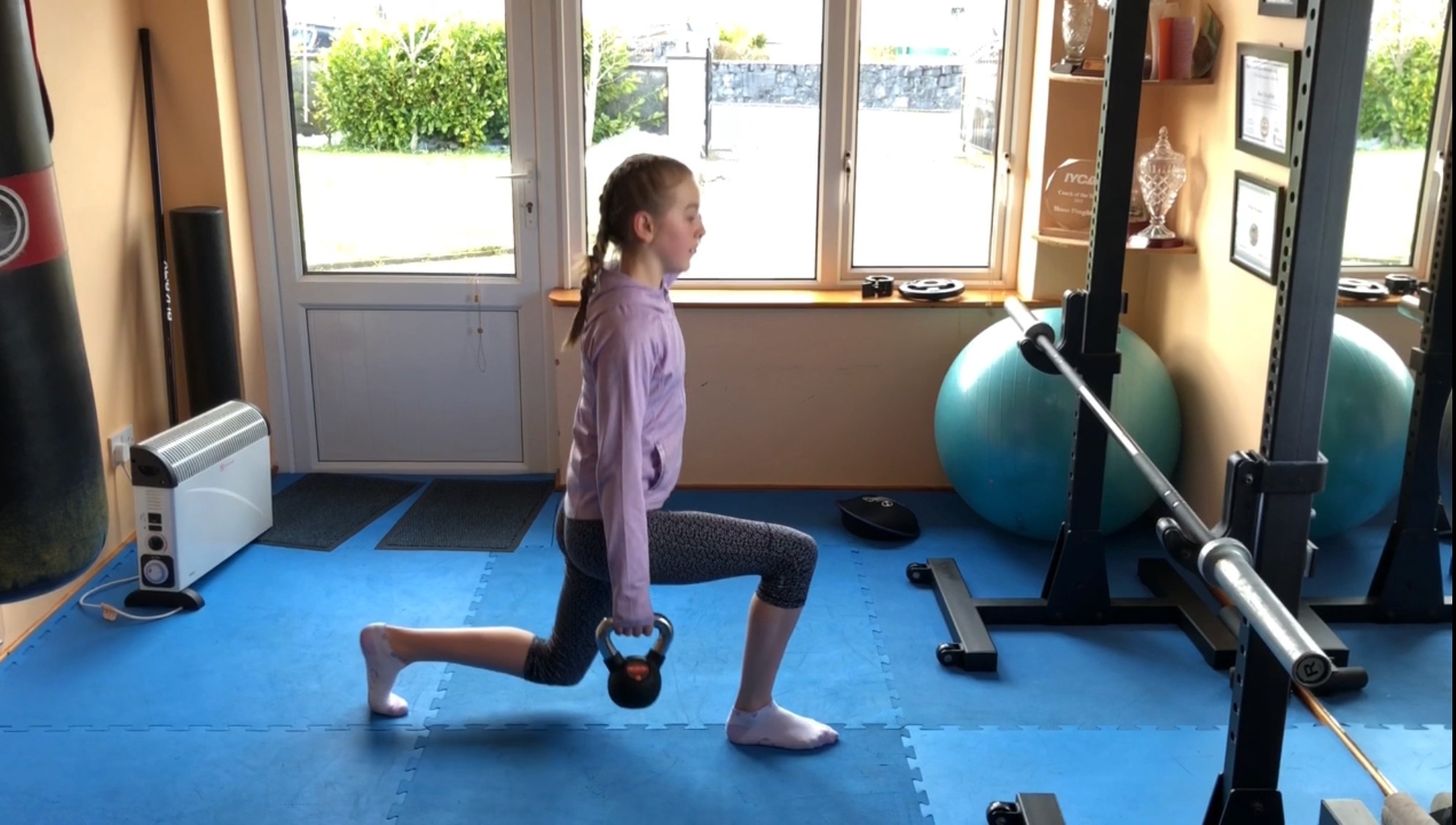 Pamela Connolly
Galway City
I heard about Shane Fitzgibbon through my daughter, Amy's, dance teacher. She recommended Shane to improve Amy's strength & fitness.
 I was very impressed with the through assessment he gave Amy. What I really like about Shane's style of coaching is how he communicates and his training methods. I felt he communicated well with Amy & always made her feel comfortable. I liked the way Shane instilled a sense of respect towards life at home. Shane is a great motivator. At the start there were some exercises that Amy felt she couldn't do but after a few sessions she was up for anything.
Amy's improvement was excellent, and this was reflected in her results at Irish dance competitions. It also made her more aware of strength & fitness.
I would highly recommend Shane to any one. Amy looked forward every week to her class with Shane. Amy always left feeling really good about what she had achieved in class & how she had been challenged.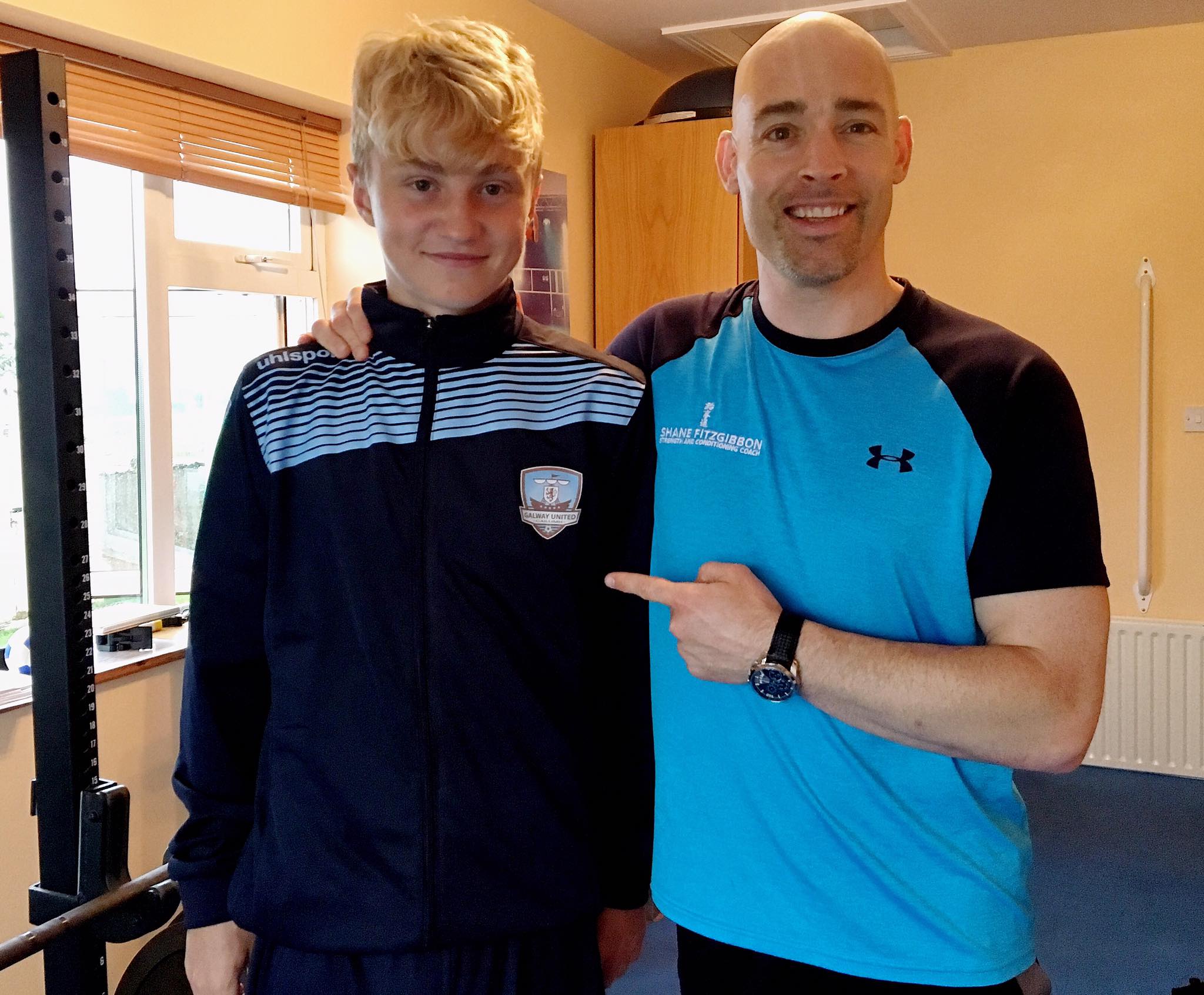 Caitriona Sheedy
Kinvara, Co. Galway
2.5 years ago I read an article online that Shane Fitzgibbon had written about athletic development of kids, and it caught my eye. I made a call, there and then, to Shane and made an appointment for an assessment for my eldest, Eli. Eli is an avid soccer player, with Colga F.C.
The assessment, Shane gave Eli, was very thorough, and areas of weakness were quickly identified. I was amazed what could be learned in one hour.
What really stood out, is that Shane is a very positive and encouraging coach that communicates very effectively with both Eli & Lucas (my younger boy, who also started coming to Shane, recently). They both really enjoy the sessions and have never complained once on the way home.
I firmly believe that Eli's 2.5 years of training with Shane has made him a more confident individual and I also feel the benefits from this expert training will help him enormously in the years that will follow. He has learned how to train safely and properly which has made him strong and fast. He has been injury free in his team sports for the last 18 months. I think he will always enjoy training as he progresses into adulthood.
A lot of the elements of Lucas's training is very similar to Eli's, just at a level suitable to his age. Shane always ensures that the sessions are fun. There is a lot of work being done in the fun parts without Lucas knowing!
Shane is an excellent coach. He has a great rapport with young people and Eli and Lucas are lucky to have Shane coaching them.
Helen O' Reilly
Portumna, Co. Galway
This testimonial is a joint one between my young athlete, Molly, and her mother, Helen. I've merged them as best I can.
(Helen): Molly had heard about Shane through two of her Irish Dancing classmates. Molly, at the time, had struggled with aerobic fitness level required for dancing. And also had intermittent onset of injuries with her ankles.
(Molly): I found the initial assessment it very insightful, educational about physical health and nutrition. And how Shane planned the personalised regime for me.
(Helen): I myself was not present during the first session/assessment. Molly had attended with her Dad. They returned both very impressed with Shane's philosophy and his approach towards fitness development. The fundamental process, journey rather than destination. Shane had evaluated Molly's baseline level and systematically evolved, over time, her physical fitness as well as physical conditioning. In different sports, as in dancing, different sets of muscles may be more developed compared to others due to the nature and demands of the sport. From the start the exercise routines and her schedule was designed by Shane to develop her whole physicality – both fitness and conditioning. This led to a near complete reduction in injuries. Built in, also, is an appreciation of healthy diet. Molly herself now, in terms of healthy eating, enjoys vegetables and salads, eggs, the way she used to enjoy nutella sandwiches lol.
One of the things I liked best was Shane's nuggets of Wisdom, e.g. "We all get 24 hours." Especially, Shane was great for recognising when stress got to Molly and down-regulating her, to get her out of "flight or fight" mode.
(Molly): I Love the toughness of sessions, especially the versaclimber lol. I saw the improvement in mobility, aerobic fitness nearly straight away. Relieved at reduction in injuries and less time off dancing as a result. I wish I could have gone twice a week.
(Helen): Wish I could have afforded it. LOL! In terms of the results of Shane's coaching, Molly and I have both gained a Lifelong appreciation of the process of maintaining both physical health and conditioning of the one body we get. Since her school provides zero physical education, Molly maintained physical health.
(Molly): Because of training with Shane, I moved up placing in Irish dancing competitions. I also gained an appreciation in strength and conditioning, not just limited to cardio. You can see the results. Shane Walks the talk. LOL!
(Helen): I absolutely would recommend Shane. As a parent and not just the child I have sat in on the majority of sessions and I myself have learned so much. Healthy body leads directly to a healthy mind. What's more important than that?
Kevin Heery
Personal Trainer, Dublin
I attended the PEAI Conference in October 2017 in which I attended three talks given with regard to "Developing Teenage Movement and Strength" given by Shane Fitzgibbon. The reason why I was interested in the talk was that I recognised that Shane was at the forefront of Kids/Teenage fitness in Ireland and I wished to learn from him.
The talks themselves were very practical and delegate led. By that I mean, Shane obviously had stuff that he wanted to communicate to the teachers. At the same time, he made it clear that he was happy to focus on anything that the they felt was important to take back to their schools.
Shane gave regressions and progressions for all the exercises that he demonstrated, thereby allowing teachers to cater for all levels of fitness in their pupils. He made sure that they all got to do the exercises after he had demonstrated them. This allowed attendees to get a "feel" for the exercises, but, more importantly allowed Shane to correct anyone that needed correcting. To me, this was very important, as having confidence in doing the exercise allows you the confidence to teach it.
Shane is conscious that kids, for most of the day, are sitting and we need to include exercises that try and combat this by stretching what needs to be stretched and strengthen what needs to be strengthened i.e. the posterior chain. Shane asked for any questions at the end and was more than happy to deal with questions on a one-to-one basis as required.
Throughout the talk, the information was communicated in a clear, easy to understand way with plenty of humour, which allowed for focused participants. To me, without doubt, teachers went away feeling empowered, allowing them to bring what they learnt to their pupils through their PE classes.
Aidan Cremin
Coaching Officer, Adrigole GAA Club, Co. Cork
Coach Shane,
On behalf of Adrigole Gaa club I would like to thank you for the workshop you did with our club on October 1st. As you know, this was a new venture for our club, a step into the unknown in terms of our knowledge or understanding of athletic development.
Some of our coaches were sceptical of the benefits of such a workshop. All left the venue with a positive mind set as to how these methods can and will benefit our young players in the short term and more importantly in the long term.
As a club we are delighted to have done the work shop and look forward to a busy off season developing our young players who by the way really enjoyed the workshop. We were all greatly impressed by your knowledge, enthusiasm and methods of delivery.
We look forward to working with you again in the near future and seeing our players benefit for years to come.
Arthur McWilliams
Co. Galway
I needed to build my core strength after having two major surgeries in seven months on my abdominal area. My daughter's Taekwon-do instructor, Ms. Connolly, informed my that Shane Fitzgibbon was a strength & conditioning coach, so I contacted him.
I was very impressed with my first session as I was really impressed at how informative Shane was. Shane explains how to do the exercises very clearly and also does the exercise himself which is very helpful.
The results are plain to see physically and the exercises are something that you can use for the rest of your life.
I would happily recommend Shane to other parents and coaches.
I've known Shane Fitzgibbon for a long time, probably around 15 years. Along with my two brothers, I attended his Taekwon-do classes throughout primary and secondary school. After reaching black belt status, I hung up my TKD uniform to pursue other passions.
About 18 months ago, I stumbled on to his professional Facebook page at a time I was looking to improve my fitness. I wasn't aware if he was coaching athletes or clients outside of TKD when I younger, but it was encouraging to know he was passionate about health and fitness outside of TKD specifically.
Whilst my job consists of arduous hours and intense mental concentration, it is quite sedentary. This had led to feel lethargic and immobile and gain unfavourable weight.
There is an abundance of information online, but it was difficult to wade through. Health, nutrition and fitness is a fad… Also, a lot of websites detail heavy lifting programs with no emphasis on flexibility, mobility or cardiovascular fitness.
I wanted to work on my flexibility and mobility while become lean. Strength was also a factor, but I had little interest in gaining bulk. After reading his website and speaking to him, I was relatively confident Shane and his services were what I was looking for.
The initial assessment, Shane gave me, was proficient, adequate and served its purpose. We identified strengths and weaknesses, where to concentrate our efforts and motivated me to improve.
Shane, unlike many fitness instructors, lives in the real world and didn't make any crazy suggestions with regards to diet. The odd unhealthy meal here and there was fine. And coffee was not an issue.
Some of the things I really like about Shane's coaching methods are:
* Questions are welcomed and answered comprehensively.
* Given his knowledge and experience, Shane can tailor his sessions to suit not only your goals, but also your physical state on that particular day. So many times we would have a late session after a long day at work and he would flip the session to cater for that.
On the downside, Shane:
• Lives ages away from me
• Probably slightly expensive – How much do you value your health and well-being?
And, I have to say, he is worth it.
In Summary:
* Shane's sessions are so enjoyable, 99% of the time I go out feeling far better than when I walked in.
* Shane has addressed many of the weaknesses others had not been able to find. We have strengthened my core and improved by mobility. I feel light on my feet again – it's great.
I would certainly recommend Shane to others.
My son is 11 years old and has been in training with Shane for a year now. I have seen him grow in confidence as an individual. His natural abilities have been uncovered. He is fitter, more health aware and genuinely proud of how far he has come.
Shane has fueled him with ambition to become the best he can be. Shane's style of training can only be described as respectful, non-judgemental and encouraging. When we started this journey, I wasn't sure what was meant by "fundamental movement skills." I can see now that these form the foundation of physical well being and are, in fact, life skills that will shape the health and well being of my son throughout his life.
Gillian Keane
PE teacher, Calasanctius College, Oranmore, Co. Galway, Ireland
I contacted Shane to invite him to our school to provide a strength and conditioning based workshop for our PE teachers. I had seen Shane at a PEAI Conference previously and was very impressed by his presentation. The workshop he provided us offered both theory and practical elements; it was very informative and provided us with excellent resources and activities that can be incorporated into our PE lessons. Shane tailored the workshop to suit our needs and was very thorough and helpful throughout the session. I would highly recommend Shane's workshops and will definitely be seeking his expertise again in the future!
Maureen Dooley
Craughwell, Co. Galway
I have known Shane Fitzgibbon for about ten years and have been more aware of his expertise in Youth Athletic Development in the last 2 years as I have had 2 children avail of his expertise through our Craughwell GAA and Camogie clubs.
I contacted Shane as my youngest child, Saoirse, had a fractured foot and her physical therapist suspected a hip disorder as well. Saoirse went to a sports specialist with the Rothman Clinic outside of Philadelphia in the states where a knee condition was confirmed. So my ten year old in one year had a foot, knee and hip problem. Her injuries stemmed from her championship level Irish Dancing. I contacted Shane to help develop Saoirse's core strength to help protect Saoirse from further injures – and also in hopes of strengthening and conditioning her so her injuries in the future would be minimal.
I was very impressed with Shane and his ability to tap into a ten year old girl's way of thinking so that he could get not only a receptive response from her but also a willingness to learn and retain the information Shane relayed to her. Shane made the weekly sessions fun for my daughter while she learned important life training skills. He explained everything and demonstrated what he wanted her to do first so she always had a clear understanding of how and why of what she was shown.
Saoirse has had minimum knee swelling and has not injured herself since she had her core training sessions with Shane. We have seen a significant change in Saoirse's dancing along with her confidence. After so many injuries, Saoirse had a fear of falling and injuring herself in competition, which really has held her back. With Shane's S&C programme, Saoirse no longer has the fear as she now understands how to jump and land properly, without hurting herself. She feels stronger physically & mentally. This strength goes beyond her dancing – it's felt in everyday life.
heard about Shane Fitzgibbon via Facebook. It was a piece written on youth training/fitness and it just struck a chord with me. I knew my son Jack needed some help in the training department but I didn't have a clue where to take him.
I found Shane very easy to talk to. I explained what it was that I felt Jack lacked in the fitness department and Shane knew exactly what it was that he needed. He is very knowledgeable in his field and I think that in turn inspires confidence in his client but also in our case, the clients mother.
Jack on the whole has enjoyed every session he has attended. Some obviously were a little more rigorous than others but Jack always rose to any challenge that Shane threw at him. Shane inspires confidence in his clients.
Jack definitely has better mobility. He has a better understanding of how his body should work and what he has to do to achieve good results. He is more aware of his diet although, as a teenager, things are a little slower changing in this department. He has more confidence as well.
Shane's system is very straightforward. You know where your starting point is and where you are aiming to get. Shane explains along the way what he is aiming for and what needs to be done to achieve this.
Jacks says the training can be tough but the results you can achieve are worth it.
For Jack these four months are only the start. He is going to carry on attending his training with Shane and is excited at what he may achieve.
I am so glad I made that phone call in July. I have seen a real improvement in Jacks mobility. I know he still has a lot to do but he has plenty of time and Rome wasn't built in a day.
Regina Casey
Gort, Co. Galway
My son, Cathal has been training in Taekwon-do for the last 6 years. He has reached his 2nd Dan black belt and competes both nationally and internationally with the IUTF Irish Team. He also enjoys playing soccer and has recently started playing with his school u17 team.
In June this year the Open World Taekwon-do Championship were held in Italy and Cathal was travelling to participate. He needed to gain 6kg in weight for his sparring weight category. This had to be done correctly and to make sure he gained muscle and not fat. As we knew Shane Fitzgibbon through Taekwon-do, I had no doubt he was to right person to help him with this task as we have invaluable experience of his knowledge in a variety of fields. He would continually share his knowledge and experiences with us in an attempt to develop our fitness, nutrition, and overall wellbeing.
Shane recommended a strength and conditioning programme starting with 3 days a week and increased to 4 days as Cathal progressed. This worked round the days Cathal attended Taekwon-do classes and team squad training at the weekends. Shane first assessed Cathal to see where his weaknesses were and gave him specific exercises to do to improve these areas. As the weeks went on, Shane assessed Cathal's progress to make sure he was steadily improving.
Cathal reached his required weight gain by the required date and was a much stronger fighter travelling to the World Championships.
Shane was very detailed in explaining the required exercises and disciplines which Cathal needed to follow. This was backed up by an excellent on-line app which Shane uses to help further explain the workouts and to remind the person of what and when they needed to be done.
Cathal enjoyed seeing the steady progress he made in all areas of fitness, but especially in the areas that had always been weak for him. This gave him an incentive to keep working hard and improving, even if he was finding it difficult. A great lesson in life for anyone!
Without any shadow of a doubt, I would recommend Shane Fitzgibbon to anyone wishing to improve the level of fitness and strength.
Margaret Kennedy
Ardrahan, Co. Galway
I first heard about Shane from Lisa Connolly who trains the Gort Taekwon-do. The reason I sought Shane's service is because my daughter Sarah's feet were turned. She loves camogie but lacks speed and trips herself due to her feet being turned. Sarah's goal was to get her feet correctly aligned. After seven weeks, both her feet have turned almost completely forward. She now stands correctly without realising and her speed has improved when running.
I am very happy with Sarah's results. It is more than I expected. Shane has worked so hard with her starting from her core, back, shoulders, legs – inner and outer, hips and her breathing. What Sarah likes about Shane is, he sets a goal for her each week and he gives her great praise and is so dedicated. She looks forward to her class every week.
David Joyce
Software Developer, Galway
I had a personal training session with Shane Fitzgibbon in December 2013, I didn't know what to expect from this as I had only ever had one done in a Gym. We started with a basic warm and from this he was able to quickly spot that I had flexibility issues with my hips and ankles. From here Shane came up with 10 exercise that I could do on a daily basis in order to fix this.
From the start, the training session was focused on making sure I knew what to do. He got me to record the exercises as he was showing them to me (videos I go back to every few weeks to make sure I am not falling into bad habits on my posture in the exercises). Once he had shown me the exercises he got me to perform them to make sure I fully understood what he was explaining to me. As well as these mobility exercises, Shane also gave me exercises for building strength in my core and upper body. As with the mobility exercises, he spent a good bit of time making sure I was using the correct technique and not just going through the motions. Not only did I find the exercises extremely easy to perform at home without the aid of any additional equipment, but within a few weeks I noticed a very marked improvement in my kicks in Taekwon-do. These have just improved and improved and I am now kicking better and with more ease than I taught I would. I would gladly recommend Mr Shane Fitzgibbon to anyone as he has a very good teaching manner and is extremely knowledgeable. Also, from personal experience I know that the tailored training routine he puts together for you actually works.
When I brought my son Colin to Shane, back in March, I explained to Shane I was tired of my son being left on the sideline in matches. He plays hurling andI wanted to see if Shane could help him out. Shane knew where i was coming from and could see that it meant a lot to me to get some help for him.
I thought it was only his speed and agility he needed help with, but after assessing him Shane saw there was a lot more work needed to be done, and Shane took Colin under his wing. Shane put Colin on the right road with diet and nutrition and has been working with him on stretching and flexibility, core strength, and various other exercises. In the months since starting with Shane he's a changed lad. He's more confident, physically stronger and flexible, and is getting on for matches. Shane –Colin looks forward going to your class every week and ye have become great friends. I really appreciate it, and thank you so much for all you have done for Colin and for me. 
Kevin Quirke
Craughwell GAA Coaching officer 2014
When I took over as coaching officer for the 2014 season, one of the first items on the list was to get our older juveniles and youths exposure to fundamentals of core, agility and speed training.
I met Shane in November and was immediately impressed with his knowledge but also what we require for hurling. Hurling is all about sprint bursts and Shane understood this.
Once we worked out a schedule Shane devised a 10 week plan. Our U-12's and U-14's have bought into this, and more importantly the managers bought into it. With 41 taking part in the sessions each Thursday it has been one of the success stories for the club in 2014. Shane has tailored the sessions to suit each age group and has brought an element of fun to the proceedings. The players have been very enthusiastic and the improvement has been quantifiable week on week. I have no hesitation recommending Shane and we hope to work with Shane in the future as this is a long term plan.
Joe Kenny
Juvenile Chairman Kilnadeema-Leitrim GAA Club, Galway
For the 1st time ever our Club qualified for the u14A & U16A Hurling C.Ship Finals in Galway in addition to our minor team qualifying for the upcoming minor A Hurling C.Ship semi-final.The addition of Shane Fitzgibbon as our strength & conditioning coach has in my opinion being the single biggest reason we have enjoyed such success this year.
Due to the fact that the majority of our players were involved in at least 3 different set-ups with either club, school or co-development squads, the ability of Shane to identify that on numerous occasions less was more beneficial, reduced the level of injury of our players significantly.
Shane`s expert knowledge in designing individual and group sessions on warm-up, stretching & flexibility, endurance, sports-specific core strength and cool down stretching was invaluable in our success this year. Finally his education of the lads on the correct diet & nutrition required to compete at the highest level elevates Shane to the highest quality coach that has ever worked with our Club.
Stephen Glennon
Seniors Team Manager, Craughwell GAA
Having come from a GAA background, hurling and football, I would have played right up to my early 30s before, prematurely, hanging up the boots. In any event, now at the age of 37, I wanted to get moving again. So, in April of this year (2013), I put myself in the hands of Shane Fitzgibbon to attain some measure of fitness – and balance – in my life.
I had met Shane many years ago but with the publication of his book – 'Training and Optimal Health for Sport' – in the Spring, our paths crossed once more and I was impressed with the way he translated the mechanics and dynamics of personal training into easy to follow instruction.
Shane's assessment of where I was at and where I needed to go got the ball rolling and over the ensuing weeks I slowly began to work towards my goals of a greater degree of fitness, more flexibility, more energy and less weight!!! This was done with a HIT warm-up followed by squat thrust, elevated press ups, assisted squats, upright rolls, squat bridge and, my personal favourite, crunches (not!!!). What I really found effective were the various flexibility exercises and, to some degree, these were vital in enabling my body to progress from week to week.
By the end of July, I had moved up to sprints and more difficult degrees of squats (including the goblet squat), push-ups and supine pull-ups, in addition to core work centring on such exercises as the plank and side plank.
In the three months, I also lost over a stone in weight and that, to me, underlined the value of following such a well-thought out programme that catered for the requirements of the individual. It was specific to my needs.
Meanwhile, seeing the benefits of the programme, I also decided, as Craughwell manager, to send one of my senior hurlers who was constantly injured to Shane for some help. In all, they did eight sessions over a number of weeks and the results were remarkable. Not only did this hurler improve significantly on his core work – and, consequently, reduce the threat of related injuries – he also became more confident in his own ability and played with renewed vigour. Indeed, the day after finishing his last session with Shane, this hurler scored 1-7 – all from play – from midfield in a senior challenge game. No matter what the quality of opposition, it was an amazing feat.
As a result, the club will be employing the services of Shane over the Winter months to work with both our senior and U-21 hurlers. If nothing else, it should ensure a solid foundation will be laid for our 2014 campaign . . . even if they are not all scoring 1-7 from play at the end of it!
Mark Horan
Galway Inter-county U-21 Hurler, Craughwell Senior Hurler
This describes my experiences working with Shane Fitzgibbon over an 8-session/twice weekly course. I was referred by my club coach who was aware of Shane's approach to injury prevention:
Shane broke each session down into to three areas:
warm-ups: e.g. foam rolling, half kneeling rotations, leg lowering for hamstrings and bridges for glute activation)

Correctives (eg is Y's/T's/I's, Rev lunges and rev flies)

Core (eg Bird dogs, planks and side planks)
I have done 8 sessions with Shane to help injury-prevention in my body as I have been injured a lot since 16 years of age. I had injuries like a torn hamstring, a torn quad and also had problems with my glutes. Shane always gave me new warmups everyday and correctives to target different areas, e.g. my hip flexors: 90/90 hip flexor stretch, or for my shoulders: floor slide, keeping three points-of-contact: elbows, wrists, and shoulders touching the ground. I was very poor at this in the first week, but noticed a big difference in the second session.
As the weeks went on, I was feeling much stronger outside of the gym and on the hurling field. I was moving better and my legs felt much stronger and my hamstrings were not sore at all. I finally felt as if I could go 100 percent. In Shane's training he always showed me the importance of good form and doing each exercise the right way or it would not work. A lot of people don't use the right form and this could damage your body.
I had come on so much through Shane's training that I didn't worry about going out to play a game, having that doubt in my head that I would be injured. I felt in great shape, but, as Shane told me, the importance of keeping the work going and getting better and better as you can't work for 5 weeks and take two weeks off. You have to always be working. I am in the best shape I have been in a long time, all thanks to Shane's help and guidance. Overall, it was great and I would recommend it to a lot of people.
I am now finished with Shane and am continuing the training myself and it is working well. I know that I can always go back to Shane for advice as he is very helpful and willing to offer advice. It has opened my mind into the importance of training consistently and properly.
Christine Maguire Duignan & Ken Duignan
My husband and I want to thank you most sincerely for the positive influence you have had on our children.  When they took your classes it was primarily for exercise and we never imagined that it would bring so much more into their lives. Since my husband had done Taekwon-do to 2nd degree black belt level, he instantly recognised that your skill and technique was world class.  What took a little longer for us to recognise was the other attributes that you have. It goes without saying that as a result of your classes, our boys have become physically stronger, fitter and more flexible but your classes have also played a very important role in the development of their character.  You have taught them that if they believe in themselves and work hard, anything is possible and they have brought this philosophy into other areas of their lives.  Your enthusiasm as an instructor and your teaching technique has instilled in them a love for, and dedication to sport and has helped them to strive for their 'personal best' in everything.   Even though they are taught as a class, you intuitively know when each of them needs a little extra time or a word of encouragement. Many times you have had a momentary one-on-one conversation with them which makes them feel very special and is a great motivator. This has been especially important to Kenneth and he is now determined and confident that despite his mild disability he will one day achieve his black belt.  They have always been very respectful children and this is a trait that you have further developed in them.  It's interesting to us that even though they only spend a few hours per week in your company, they bring your teaching with them and apply it to many aspects of their lives, always towards a positive result.  This is testament to the fact that you are a true mentor to them.  They are now in their teenage years, therefore we know that the Taekwon-do ethics and codes of conduct are of even greater importance.  
Thank you for your dedication and enthusiasm.